toadflax234
We had SUCH a good weekend - we always do. The guests are brilliant, but they're not the only reason we go. We've made such good friends over the years - I'd hugged about 8 people before I even got into the convention building! Lol. It's so lovely, being with hundreds of people who share a common interest, and are thrilled to be there. By the end of the weekend, my face hurt from all the smiling. :-)
Anyhoo... on to the usual crappy photos - I get very excited, hence the camera shake! This was a
Stargate Atlantis
convention, just so's you know.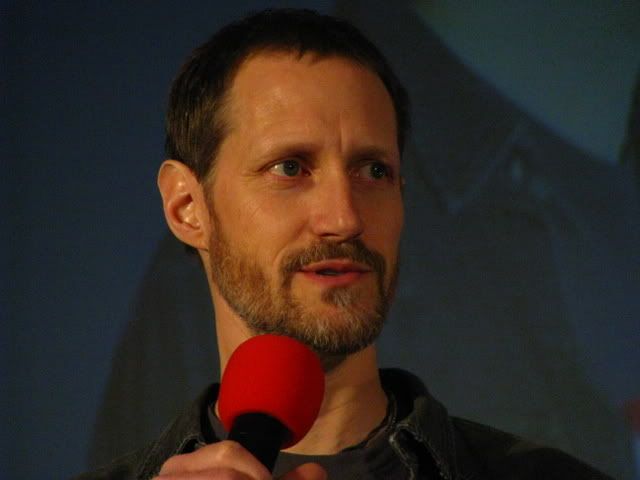 Christopher Heyerdahl - what a lovely man. His first convention too, and he had a great time. One of the roles he plays is Todd, a nasty Wraith bad guy on the show - and it was quite funny thinking of that when I saw him on the dance floor shaking his booty to the Time Warp and YMCA. Hehe! Turns out his father's cousin is Thor Heyerdahl (
http://en.wikipedia.org/wiki/Thor_Heyerdahl
), who became famous for the Kon-Tiki expedition, on a boat made of balsa wood. Christopher is fluent in Norwegian too, and boy did that sound sexy!
Neil Roberts has recently done an audio book with Paul McGillion, and was slotted in as an extra guest. He's been on
Charmed
and many other shows. And he was a hoot! So smutty though - the innuendo was incredible. What a naughty man! Hilarious!
Chuck Campbell - plays a gate technician on
Atlantis
and an 'abnomal' on
Sanctuary
. He's such a livewire - so funny. Many funny stories, and great impressions of Joe Flanigan and Jack Nicholson. Lol.
Paul McGillion - this is the third time I've met him, and he's so gorgeous. What a lovely flirtatious man. He made us all cry with a story he told about a little boy he'd met in Belfast, who'd come to give Paul a piece of his birthday cake. :-)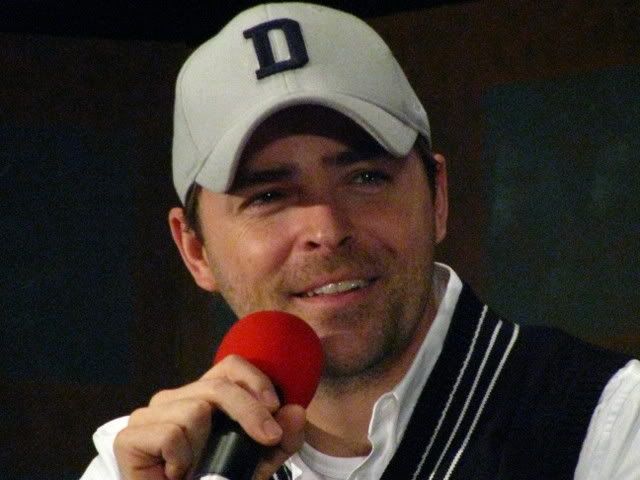 Kavan Smith - I love Kavan. I have more than a little crush on this man, and he was such fun on the weekend. More potty-mouthed than usual - and really funny because of it. Apparently, in a recent poll, 40% of people reckoned his character on
Atlantis
was gay. He referred to that a lot! (By the way, Kavan's not gay - he recently got married, and has a 17-month-old son, who he talks about all the time. Sweet!)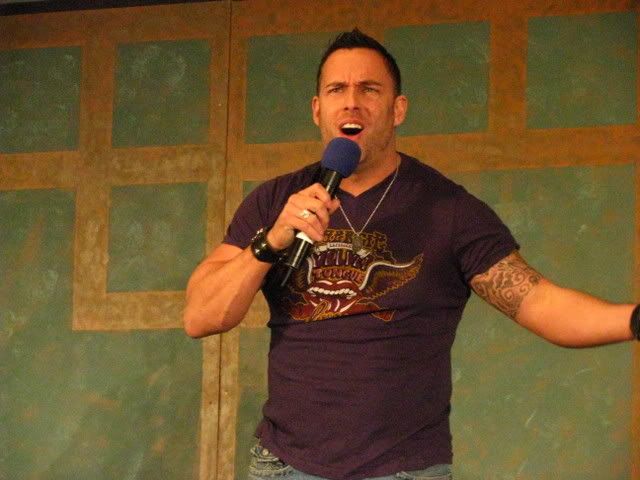 James Bamford - Bam Bam! What a beefcake! He's the stunt coordinator on the show, and he brought in a couple of his stunt guys to give us a demo. Brilliant! He's now one of my friends on Facebook too. :-D
I got hugs and kisses from all the guests this year - I think I'm getting braver. Lol. The parties were the best in years too - the dance floor was packed. I didn't get to bed before 2 a.m. on Friday, Saturday and Sunday. And I had to wear flat shoes on Sunday since I had 'party feet' from all the dancing. There are loads of con dances, like line dances, where everyone knows the steps. It's marvellous to watch. And to standard con tracks like Star Trekkin', Doctor Who, Joe 90, Blame it on the Boogie, YMCA, Time Warp,.... oh I could go on and on. I even managed to get Sue up on the dance floor - she knows three of the dances now and we're going to teach her more next time.
Ah, it's 50 days until the next convention. Can't wait! The next one is on
Eureka/The 4400
. Should be fun!